PCs stripped girl, 14, 'to prevent harm', court rules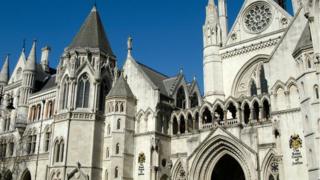 Police officers who removed the clothes of a 14-year-old girl did not breach her rights, a court has ruled.
The teenager, who had a history of mental health problems, was arrested by Merseyside Police in Birkenhead in 2010 for being drunk and disorderly.
Female police officers stripped the girl because they feared she could use her underwear to hang herself.
Lawyers challenged the police action but Court of Appeal judges said their aim was "legitimate".
The court heard the girl, identified as PD, was handcuffed because her behaviour was "uncontrolled and aggressive".
She was taken to Wirral police station where three female officers stripped her and removed her pants because it was feared she could use the elastic to hang herself, the court heard.
CCTV footage of the girl, who was in a cell, showed her tearing her hair out and banging her head against a wall.
Suicide fear
The court was told the footage of her in the cell was evidence that she felt "degraded".
The charities Children's Rights Alliance for England and Just for Kids Law intervened in the case claiming that the actions of police did not follow the correct procedures.
PD's lawyers claimed her rights to privacy under conventions on human rights and the rights of the child were breached.
The appeal judges unanimously rejected the legal challenge, saying that preventing the girl from harming herself was "a legitimate aim".
However Lord Justice Pitchford expressed concern that police did not consider less invasive measures than removing the clothes of "a distressed and vulnerable 14-year-old girl".
Welfare organisations fear that officers are increasingly strip-searching or removing children's clothes in police stations possibly to prevent detainees from attempting suicide.
They have called for an urgent review of the practice.