St Luke's: Plans to repair bombed-out Liverpool church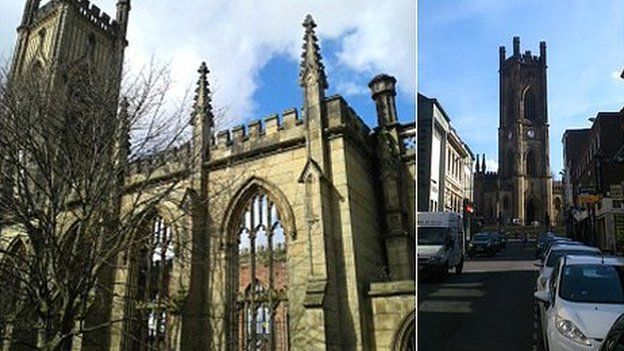 Work to repair crumbling stonework at Liverpool's bombed out St Luke's church will begin subject to the approval of funding from English Heritage.
The Grade II* listed building, on the corner of Leece Street and Berry Street, was damaged in a 1941 air raid.
A survey found urgent work was needed to make the building safe following damage caused by winter storms.
Liverpool City Council will be asked to approve the £74,591 grant towards the £150,000 needed on 20 February.
The council is funding the remainder from its Buildings at Risk fund.
Crumbling stonework, currently being held up by metal supports, would be repaired while a roof over the south tower vestry would be added.
If the grant is accepted, work would start in April or May and be completed by 2016.
Repairs, valued at £500,000, would be carried out in three phases.
This includes restoration work to the tower, low-level stonework and to the garden boundary railings.
Councillor Malcolm Kennedy said: "We need a long-term solution which will preserve St Luke's and allow it to be used for appropriate type of events."
It is currently being used for community and art projects.
St Luke's Church was built in 1831 by John Foster and John Foster Jr and continues to stand as a memorial to those killed in World War Two.
The walls and gates of the church are Grade II* listed.
Related Internet Links
The BBC is not responsible for the content of external sites.