Hillsborough inquests: Police 'threw' fans back into pens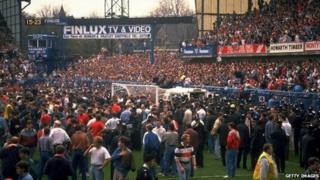 Fans trying to escape the Hillsborough disaster were "thrown" back into pens by police officers, a jury has heard.
Adrian Brazener, a sergeant from Nottinghamshire Police sent to act as a spotter among Nottingham Forest fans, was giving evidence at the inquests.
He said he shouted at police in front of the Leppings Lane terraces "for God's sake let them over the fences".
Ninety-six Liverpool fans died after the crush at the 1989 FA Cup semi-final held at Sheffield Wednesday's stadium.
'Obviously dead'
The inquests heard Mr Brazener had been outside the Penistone Road end but responded to a call for all available officers to head to the opposite end where Liverpool fans were.
The jury heard part of a statement Mr Brazener wrote shortly after the 15 April 1989 disaster.
He said: "On reaching the West Stand I saw many policemen throwing back persons into the crowd who were apparently trying to get onto the pitch.
"I believed it was to prevent a pitch invasion. However, as I walked closer to the fence directly behind the goal-mouth I could see that many people were being crushed and some were obviously dead."
Mr Brazener told the jury he started pulling on police officers, imploring them to let fans over the fence.
---
Who were the 96 victims?
BBC News: Profiles of all those who died
---
He said he saw the face of a woman who was pressed against the fence.
She was "desperately in trouble", Mr Brazener said, adding that he feared she would die.
"I knew then it's definitely not a pitch invasion. Because the severity of her face I knew that she was not going to survive.
"I then was grabbing police officers to stop them - shouting at them to stop them pushing the fans back down on to the bodies that were lying on the ground."
'No co-ordination'
The jury heard Mr Brazener then started helping to get fans out of the worst affected areas in pens three and four.
He said there was "chaos" and "no co-ordination or anything of that sort" on the pitch.
"I recall that there were a lot of policemen who had got their backs turned to the Leppings Lane end.
"When we were carrying either living or deceased bodies out, we were having to push past them or shouting at them to get out of the way because they were in shock."
He further told the court: "They were dazed - they didn't know what they were doing."
The jury also heard that Mr Brazener "honestly believed serious disorder would take place" between Liverpool and Forest fans.
He said he "tried frantically" to stop Liverpool fans heading towards the Forest end of the ground and was worried chanting may provoke the Liverpool fans, some of whom ran towards the Spion Kop, where Forest fans were standing.
A cordon of police officers was set up across the pitch between 15.37 and 15.40, the court heard.
The inquests sitting in Warrington, Cheshire, are due to resume on Monday.