Fans segregation enforced for Everton v Liverpool derby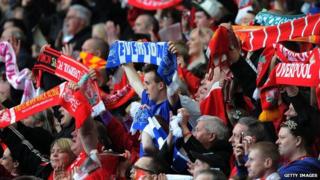 Everton and Liverpool fans are being warned by police that they cannot sit together at the Merseyside derby.
Merseyside Police took legal action to try to bring forward the kick-off time for the Goodison Park match, which starts at 17:30 GMT.
The application was withdrawn after Everton agreed to increase segregation for the match, which traditionally sees rival supporters sit together.
Police have threatened to eject anyone found breaking the rule.
The move marks a significant change in the force's attitude to the Merseyside derby.
Supt Chris Markey said: "Everton have undertaken to fully enforce the ground regulations in respect of segregation.
"Any away supporter seeking entry to home areas of the stadium will not be permitted entry irrespective of whether they have a ticket for that area of the stadium.
"If any away supporter is identified in home areas they may be ejected."
Historic tradition
Speaking to BBC Radio Merseyside, Mr Markey added: "The term 'friendly derby' has been applied to this fixture historically.
"Unfortunately, and it may not be palatable for some fans to acknowledge, that is less becoming the case."
Richard Peddar, chairman of the Liverpool Football Club supporters club, said: "It's ridiculous if you've got a Liverpudlian and an Evertonian in the same family who want to sit together.
"It's a long tradition and it's just not fair to come in at the last minute and try to complicate things.
"There's never any trouble in the ground. It's not like other derbies.
"Where you do sometimes get trouble is in the city centre or the outskirts of the city, but families can't be held responsible for that."