Joe Anderson: Liverpool mayor defends Merseyside devolution deal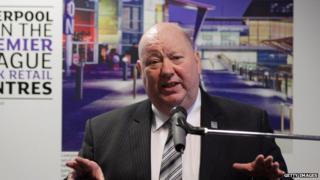 Critics of plans to devolve more powers to Merseyside are bringing the area into disrepute, says Liverpool's mayor.
Joe Anderson said council leaders agreed a few weeks ago, and with "no preconditions", a Liverpool City Region devolution deal similar to that backed by Greater Manchester councils.
St Helens and Knowsley Councils recently suggested the plans should only go ahead following a referendum.
But Mr Anderson said councils should not change their mind in such a way.
The chair of the Liverpool City Region Combined Authority, Phil Davies, said in November that Merseyside's councils would "ask for the kind of rapid progress towards devolution that we have seen in Manchester".
Chancellor George Osborne said Greater Manchester would get an elected mayor to preside over regional issues.
The mayor would oversee policies such as transport, social care and housing as well as police budgets.
Knowsley Council has voted against the devolution deal, with leader Ron Round saying any proposed changes must receive public backing via a referendum.
And Barrie Grunewald, leader of St Helens Council, has also made a similar plea.
'Fighting ferrets'
But Mr Anderson responded: "Only a matter of weeks ago we told government in a letter agreed by all leaders that we would discuss with no preconditions devolution of powers and resources similar to Greater Manchester.
"We simply cannot make a statement one week saying one thing and do something different the next - it brings discussions and our standing into disrepute."
He added: "How can we have a referendum when we have no question to ask the people? If we have not got any negotiated powers or resources to show how and what can we ask?"
Mr Anderson also said: "The claim that Wirral, Sefton, Knowsley, St Helens or Halton would lose powers to Liverpool is false, this would be about taking powers from government for the benefit of the whole Liverpool Region not from each other."
Councillor Richard Kemp, leader of Liverpool's Liberal Democrats, said the dispute between Mr Anderson and his fellow Labour politicians from neighbouring authorities was, "six men squabbling like ferrets in a sack".
He added: "Joe Anderson is once again propagating a mayoral myth. He told us that if Liverpool had a mayor we would get more power, more money, more influence... indeed he has failed to get any of these things.
"We do not need and do not want a city region mayor - what we want is a small elected authority covering the strategic region which would enable the people of the area to express their opinions on the future of their area through the ballot box."