Off-duty PC Neil Doyle 'may have been recognised'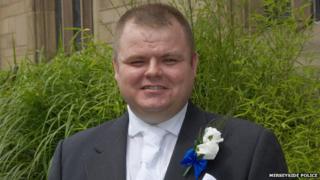 An off-duty police constable who died after he and two colleagues were assaulted in Liverpool city centre may have been recognised as an officer.
Neil Doyle, 36, was taken to hospital following the attack near the Aloha Club in Colquitt Street at about 03:15 GMT. He died shortly after.
Merseyside Police are treating the attack as murder.
PC Doyle was married in July and was due to go on honeymoon with his wife Sarah next month.
The other two off-duty officers were treated for facial injuries and have been discharged from hospital after being attacked by three men, police said.
'Good cop'
Asked if Mr Doyle had been recognised as a police officer, Merseyside Police said it was "a line of inquiry" into the attack, which took place during their Christmas night out.
One of the injured officers has said the attackers knew they were members of the police force, police confirmed.
Speaking at a news conference, Chief Constable Sir Jon Murphy said: "The investigation is at an early stage as detectives try and ascertain the full circumstances of events."
---
PC Neil Doyle
Joined Merseyside Police in May 2004
He was an operational officer who was "well liked and respected by his colleagues"
Most of his time spent working as a police officer was in Liverpool
He had been commended for his actions when arresting three men in a "violent offensive robbery"
---
'Unprovoked attack'
Sir Jon said: "On behalf of everybody connected with Merseyside Police, I extend our heartfelt and sincere condolences to his wife Sarah and the rest of his family."
"The three officers were subject to an apparently unprovoked attack by a group of males.
"Following intensive emergency treatment at the scene Constable Doyle was taken to Royal Liverpool Hospital, where he sadly died a short time later."
During a press conference, he said both of the injured officers had been discharged from hospital.
One had been treated for a fractured cheekbone and the other "a less serious facial injury".
Merseyside Police Federation chairman Peter Singleton said PC Doyle was "a good cop that any officer would be proud to call a colleague".
"Neil was the kind of officer the police service is built on. This is devastating news."
Merseyside's police commissioner Jane Kennedy added: "I am deeply shocked and saddened by this news. My heart goes out to the family of Neil Doyle.
"I am sure I speak for people across Merseyside when I send his loved ones, friends and colleagues our thoughts and most heartfelt sympathy."
The flag at Allerton Police Station is flying at half-mast as a mark of respect.
The area around where the three men were attacked has been cordoned off while a forensic investigation takes place.
A post-mortem examination to establish the cause of PC Doyle's death will be carried out later.