Hillsborough Inquests: PC felt 'severe pressure' over statement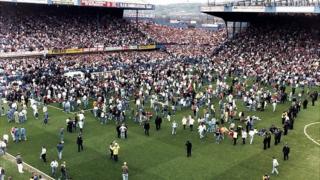 A police officer was put under "severe pressure" to accept changes to his statement about the Hillsborough disaster, the inquests have heard.
Deletions to Michael Walpole's account were a "mixed bag", the jury heard, including comments critical of both the police operation and Liverpool fans.
He said he recalled how officers were "hounded out" and their lives made a "misery" until they retired.
But his original statement was finally sent to a public inquiry.
Ninety-six football fans were fatally injured at the Liverpool versus Nottingham Forest FA Cup semi-final, held at Sheffield Wednesday's Hillsborough stadium on 15 April 1989.
'Deliberate attempt'
Mr Walpole, a PC with South Yorkshire Police at the time of the disaster, agreed that changing his statement was "without doubt" a "deliberate attempt to distort facts".
"It's quite clear that the top of the chain of command were trying to take the blame away from themselves," he added.
But he also agreed with John Beggs QC, who represents three of the match commanders, that "some of what was taken out would have supported senior commanders".
One of the sentences highlighted for deletion said he "did not hear any radio message for the entrance of the central pens to be closed off despite those being packed solid".
Elsewhere, he wrote: "There seemed to be no organisation or radio messages from about 15:15. It was a case of every officer doing what he could, wherever he happened to be."
That sentence too was marked for removal.
Mr Walpole also feared that a sentence in which he recalled hearing a PC outside the ground calling for the kick off to be delayed was also removed.
The first he knew of the request to change his statement was when he was approached by Sgt Graham Watts on 19 May, 1989.
"He stated the solicitors acting for the police had re-typed my statement and had deleted certain items, one being the fact that I heard [PC Michael Buxton] request the game to be delayed."
Mr Walpole continued: "There were other comments taken out but this struck me as rather important, so I just refused to sign it."
Then on 30 May, Mr Walpole said he was called to a meeting with Ch Insp Alan Foster at South Yorkshire Police headquarters.
'Severe Pressure'
Mr Walpole said the senior officer had a copy of his original typed statement, and indicated that items would be removed and that "opinions and criticism" were not allowed.
Mr Walpole said he felt that Ch Insp Foster was "ordering" him to sign the statement "without further delay".
"The situation was very intimidating. I felt I was under severe pressure to comply with the demands."
Mr Walpole eventually signed the statement, which included a reference to the police officer requesting the game to be delayed.
Statements were sent to the West Midlands police force which was investigating the disaster. They were being fed into the Taylor public inquiry, which started on May 15, 1989.
But the jury heard the unamended version of Mr Walpole's statement was sent to the inquiry team in error.
The inquests continue.