Killer Leslie Gadsby: Mersey NHS trust and Imagine 'failed over care'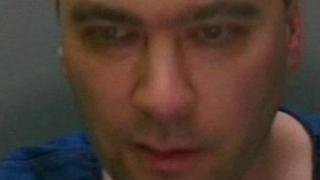 Treatment of a paranoid schizophrenic who killed his parents was marred by failings, a report said.
Mersey Care NHS Trust and mental health charity Imagine did not manage Leslie Gadsby's care on his release from a secure hospital and misunderstood his risk to the public, NHS England said.
Gadsby, of Merseyside, stabbed his mother in 2010, after serving a custodial term for killing his father.
The trust said changes had been made but Imagine declined to comment.
'Poor communication'
The report said there were 13 "thematic issues" where failings were found against the trust's Scott Clinic in Rainhill and Imagine - which provides mental health services in the community.
They included Gadsby's diagnosis, medication, hospital discharge planning and in his overall care.
---
The investigation findings include:
Gadsby did not receive treatment in line with national best practice guidelines
There were serious failures in how his conditional discharge from hospital was applied
His discharge did not fully detail his needs or public safety needs
Too much confidence was placed in Gadsby's ability to work with his recovery programme
Record keeping and communication between organisations were poor
---
Gadsby, 42, admitted the manslaughter of his mother Edna, 70, at his flat in Moscow Drive, Stoneycroft, on 31 March 2010 and was given a life sentence, to be served in a secure hospital.
He had been sent to the secure unit after killing his father, Arthur, with a hammer in 2004 and was released more than two years later.
On release, he had been ordered not to go within 200m of his mother's house. But, he went on to kill her in 2010.
'Tragic catastrophic case'
Dr David Fearnley, consultant forensic psychiatrist at Mersey Care NHS Trust, said: "[We] accept the recommendations as they stand.
"We cannot see how this could have been prevented, but clearly with hindsight there are many things that could have been put in place beforehand.
"A tremendous amount has been put in place to correct these failings."
---
Recommendations include:
An audit of diagnostic practice within the Scott Clinic
The trust should develop guidelines about conditions attached to hospital discharges
Review the risk management processes at the Scott Clinic
The trust and Imagine look at referral, admission and discharge processes
Ensure orders made by the court are complied with at all times
---
Marjorie Wallace, chief executive of the mental health charity SANE, said: "His history of violence and the fact that he had already killed his father and brutally assaulted his mother, should have raised sufficient alarm that he was a danger to himself and others.
"This tragic case would seem to expose the failure of those accountable in their duty of care to diagnose and assess the risk - and protect the life of Gadsby's mother."
A spokeswoman for NHS England in Merseyside said the report "acknowledges the significant number of changes that have been made by the mental health trust since this happened" adding "the recommendations will help the whole of the NHS".