Hillsborough inquests: Senior ambulance officer 'not effective'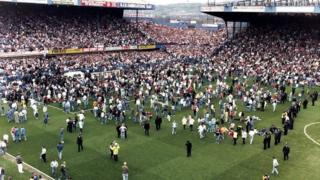 A medic saw a senior ambulance officer "in a state of shock" and "not effective" during the Hillsborough disaster, the inquests jury has heard.
Peter Litster said he was also told to be "careful" over what was said in statements about senior officers.
The jury at the hearings in Warrington further heard Mr Litster's statement was changed without his knowledge.
He also said he found a boy alive in a pile of bodies, which included his father, on a stadium access road.
Ninety-six football fans died after being fatally injured at the 1989 FA Cup semi-final between Liverpool and Nottingham Forest at Sheffield Wednesday's Hillsborough stadium.
Mr Litster was a leading ambulance man with South Yorkshire Metropolitan Ambulance Service (SYMAS) at the time.
---
Who were the 96 victims?
BBC News: Profiles of all those who died
---
Mr Litster and his driver were first called to the Leppings Lane end of Hillsborough stadium at 15:18 GMT.
They arrived at the ground at 15:38, collected two casualties and left seven minutes later.
After dropping the casualties at Sheffield's Northern General Hospital, they returned to the Leppings Lane end.
Mr Litster said it was "pretty chaotic" and added they "struggled to get through" on their return journey.
"An ambulance had been left at the side, abandoned more or less, and that prevented vehicles from passing and getting through," he said.
Banging radio
Asked how he felt the organisation of the emergency scene was being managed, he replied: "To be honest it were terrible."
He said he saw Assistant Chief Ambulance Officer David Jones leaning on a wall outside exit Gate C at the Leppings Lane end.
Mr Litster said the senior officer was banging his radio against the wall, saying it was not working.
"He looked more shocked than anything about the whole scenario and walked away," he explained.
Mr Litster said he also had to remove a boy of about 13 who was lying on the body of his father.
The boy's father had been placed along with other bodies on one side of an access road going south around the stadium and the boy was in amongst them.
Mr Litster said he only noticed the boy was not dead when another body was put on top of him and the boy moved.
Calling out 'dad'
Mr Litster said: "It was a young person of about 13 years of age. He was in the second row of bodies and he was moving.
"So I got hold of him and pulled him out, realising he was not actually a person who was deceased.
"He was actually lying on top of his father. He was calling out 'dad'.
"I spoke to the doctor in attendance and asked him to ensure that whoever was on the pile, that they were in fact deceased."
In a recent statement, Mr Litster said: "My main concern after the disaster was seeing Asst Chief Ambulance Officer Jones, who frustrated me by appearing to be in a state of shock and not being effective in his role.
"I later reported this, but not at that time.
"I believe how the ambulance service reacted on that day was the fault of the senior managers."
He added: "From where I was, at Leppings Lane, I believe things went well."
'Under pressure'
The jury heard how Mr Litster wrote a handwritten account of his actions on 17 April. The next day another account was taken during a meeting.
Mr Litster said Station Officer Patrick Higgins took his statement at SYMAS headquarters in Rotherham.
There were also two other people in the room who "did not disclose who they were", Mr Litster said.
Asked about how Mr Higgins took his statement, Mr Litster added: "He tried to get me to give a statement in respect of what had happened throughout, but I had to be careful of what was actually being stated.
"When I mentioned one or two details, I was told that I cannot put that sort of thing in.
"The main parts were about senior officers."
Asked which senior officers, he said: "Mr Jones".
He agreed with a barrister for the Hillsborough families that he was put "under pressure" while giving his account of the day.
In one portion of his statement, a paragraph was changed so that it read as if he had received a radio message asking him to take on the role of "contact duty officer" on the ground.
But Mr Litster said he had not received that message because of poor radio communications.
Having checked the statement, he said it did not accurately reflect either his evidence or his account of the day.
The inquests continue.