Merseyside Police Christmas cards target gun crime mums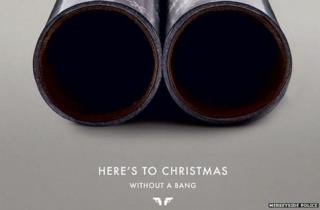 The mothers of young people believed to be involved in gun crime on Merseyside are to receive special Christmas cards from the police.
The cards feature wrapping paper made to look like a shotgun and the message: "Here's to Christmas without a bang."
Inside, a further message reads: "And your family's Christmas isn't ruined by a gun or a gang."
Det Supt Mike Shaw said he hoped it would "lead to families talking about the dangers and consequences" of guns.
"We urge mums - who know their sons or daughters are involved with gangs who used firearms - to help us to get out of the vicious circle they may have found themselves in," he said.
"We all want the best for our children and don't want to see them go to prison for their involvement in gun crime or, even worse, taken away in a body bag."
He said providing information to police "could be a decision that saves not only their loved one's life but the life of the son, brother, nephew or husband of another woman."
Merseyside Police will be sending cards to mothers in Liverpool, Knowsley and Sefton.