Merseyside Police to use body cameras to tackle festive crime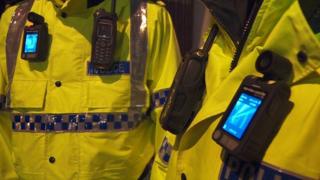 Body cameras will be worn by Merseyside Police officers to give them "an extra pair of eyes and ears" while tackling crime over the festive period.
All 500 cameras record in High Definition and will be "clearly visible" when they are used by officers patrolling town centres.
They will record incidents such as alcohol-fuelled disorder and fights.
Police said the cameras can "diffuse potentially violent situations" and footage can be used to gather evidence.
Supt Mark Wiggins said: "Inevitably a minority of people will let themselves down by drinking too much and getting involved in an anti-social or violent incident.
"Our increased use of body-cams will help us tackle these problems.
"We make it clear to people when officers are filming them and we have found already that some people start to behave themselves when we point this out to them."
Merseyside's Police Commissioner Jane Kennedy said: "Using these cameras speeds up justice, puts offenders behind bars more quickly and protects potential victims."