Lusitania 100th anniversary: Liverpool museum exhibition announced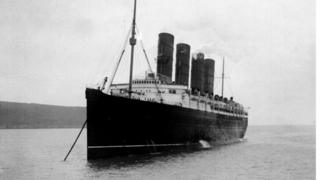 An exhibition featuring memorabilia from the sinking of Liverpool liner, Lusitania, will go on display to mark the 100th anniversary of the disaster.
A German submarine torpedo sank the Cunard vessel off Kinsale, Ireland, on 7 May 1915, killing about 1,200 people.
The disaster was pivotal in prompting the US to enter World War One as many passengers were US citizens.
Lusitania: life, loss, legacy opens at Merseyside Maritime Museum in March 2015.
The captain's watch, a lifebuoy, cushion and a deckchair will go on display along with other items. There will also be stories from families who lost relatives.