'Last man' wanted over cocaine-in-fish-tins plot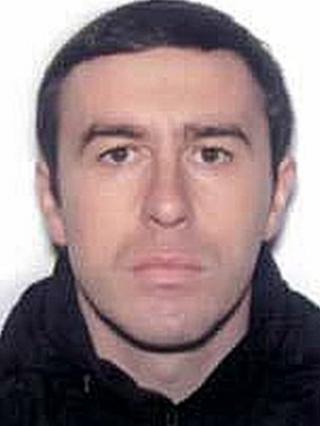 Police have appealed for help to find a man suspected of being the last member of a gang that planned to smuggle cocaine into the UK in tins of fish.
Twenty-four members of the group were jailed over the smuggling plot in 2011.
The National Crime Agency (NCA) said Paul John Scott, from Liverpool, was the "last man outstanding".
The 32-year-old, who is believed to be in Europe, is also wanted in connection with the murder of Francis Brennan in Alicante earlier this year.
A NCA spokesman said the gang had planned to smuggle 40 tonnes of cocaine into the country in the tins and wooden pallets.
He said Mr Scott had links to Spain, the Netherlands, Belgium and France and was also wanted by Spanish police over Mr Brennan's murder.
The 25-year-old was allegedly abducted by three men posing as police officers when he fled to Spain to avoid jail in the UK in January. He was found dead on a beach in April.
The NCA's Greg McKenna said Mr Scott was "the last man outstanding in our investigation into the plot to flood the UK with huge quantities of drugs".
"We are working closely with Merseyside Police and the Spanish authorities to locate him but we need the help of the public too."
The appeal to find Mr Scott was launched on the BBC's Crimewatch programme.
The spokesman said anyone with information about Mr Scott's whereabouts should contact the NCA, Merseyside Police or Spanish police.