Hillsborough inquests: Hero recalls helping fans in fatal crush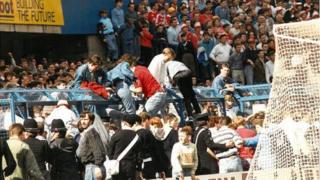 A St John Ambulance hero who jumped into the crush at Hillsborough to help casualties has told the inquests how he tried to keep fans alive.
The court heard Philip Saxton climbed into pen three of the Leppings Lane terrace and pulled fans from a pile of bodies that was "four high".
The jury was also told how he later tried to help about 15 fans who had been taken onto the pitch.
Mr Saxton was given the British Empire Medal for his heroism on the day.
Ninety-six people were fatally injured at the FA Cup semi-final at Sheffield Wednesday's ground, on 15 April 1989.
'Everybody is deteriorating''
The jury was told how Mr Saxton, who had served with the St John Ambulance since the age of 11, was stationed with his father and other volunteers near the terrace.
As the disaster unfolded, he began "assessing people" from the pitch side.
He said he went "up and down the fence" and saw that, fans who he had seen "conscious [and] stood up" had then "stopped talking".
"Next time I went, they were pale blue, was going pale and I'm thinking 'Christ, things are getting worse here - everybody is deteriorating, I can't get to them'."
Mr Saxton said he noticed a "small gap" appear in the pen about six metres back.
"I thought 'Should I go in? Shouldn't I go in?' So, then I went back to the fence again and I looked at that gap again.
"It was slightly larger and I thought, 'If you're going to do it, you have got to do it now, because the longer you wait here, the worse it's going to be for them - you need to get in there now, you know what you can do'."
Footage shown to the jury showed Mr Saxton jump into the pen at about 15:12 BST.
He said there were no stewards, police officers, paramedics or other first aiders in the pen at that time.
"As I dropped down the other side, I remember I had to scramble across people's heads and shoulders. Some were conscious and some were still alive and I were apologising."
'Harrowing sight'
He recalled the moment he treated his first casualty before moving on to the next, not knowing if the victim survived.
"I still don't know to this day whether I got him going, which still eats in to me," he explained.
He spoke about the pile of bodies he faced, which he said was "a harrowing sight".
"I thought 'What do I do now? Which one do I pick next?'," he said.
Mr Saxton said he began searching for any casualty that was still "showing signs of life", he said, and it "seemed an eternity" before he found somebody.
---
Who were the 96 victims?
BBC News: Profiles of all those who died
---
After about 15 minutes, Mr Saxton left the pen to try to help casualties on the pitch.
He said: "It was absolute mayhem - there was people laying all over the place".
On meeting his father, who was also a first aider, Mr Saxton said he started to break down.
'Heroic contribution'
"He kept saying 'You can't break down, Philip, you've got to be strong, you've got to keep going'.
"So, I took a deep breath and gathered myself and started to look around again."
Christina Lambert QC, who represents the coroner, told the court Mr Saxton was awarded the British Empire Medal in September 1990 for his "heroic contribution to the emergency response".
Mr Saxton said he had done "what anybody would have done".
Coroner Lord Justice Goldring said: "Nobody could have done more, that's all I can say."
The inquests, being held in Warrington, continue.