Birkenhead Bantams honoured by Wirral Council memorial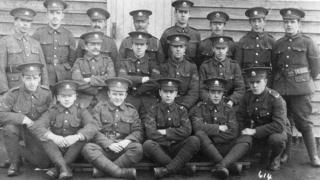 A memorial honouring the undersized World War One soldiers from Wirral known as the Birkenhead Bantams has been unveiled.
The unit's centenary was marked at Birkenhead Town Hall at 11:00 GMT.
The Birkenhead Bantams formed in November 1914 when the town's MP Alfred Bigland petitioned for smaller men to be enlisted.
Mr Bigland was incensed at the rejection of healthy men who wanted to serve their country.
Thousands of men previously barred from fighting because they were not tall enough were accepted for service in two Bantam battalions.
Other regiments were set up around the country.
As a result of the MP's initiative the minimum height for soldiers was lowered from 5ft 3in (1.6m) to 5ft (1.52m).
Soon renamed the 15th and 16th Battalions, Cheshire Regiment, the Bantams served in some of the most hard-fought battles of the war including The Somme and Ypres.
The Mayor of Wirral, Steve Foulkes, said: "The story of those brave Birkenhead Bantams and their part in the history of the Great War is awe-inspiring, and we owe them a debt we can never repay.
"We can, however, remember them, and make sure that their bravery and sacrifice is never forgotten - which is why this memorial and events such as this are so important."