Restrict sale of laxatives to children, says anorexic daughter's mother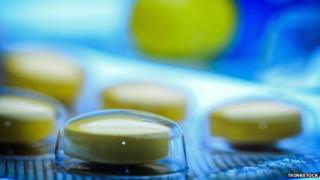 A woman whose teenage daughter was hospitalised as a result of overdosing on laxatives is calling for their sale to children to be heavily regulated.
Carolyn Jones, from Liverpool, wants age and quantity restrictions to apply.
Her 16-year-old daughter Sarah, who is anorexic, bought hundreds of laxatives and collapsed after taking 28 pills.
Under Medicines and Healthcare products Regulatory Agency (MHRA) regulations, laxatives are sold on an over-the-counter basis at retailers' discretion.
Patient information on non-prescription laxatives was recently reviewed by The Commission on Human Medicines (CHM) which recommended stronger warnings be added to packaging.
Weight loss
Following an investigation by the BBC's Watchdog programme, the MHRA said labels should emphasise "that taking laxatives regularly for a long time is harmful and they do not aid weight loss".
"We are currently working with companies of stimulant laxative products to introduce these updated warnings which should provide consistency across the range of stimulant laxative products available."
The UK's leading eating disorder charity, Beat, estimates 80% of those affected by eating disorders in the UK have misused laxatives in order to lose weight.
The charity has called for:
a minimum purchase age of 16
a maximum pack size of 10 tablets
sales restricted to pharmacies
a warning label on packets that states "this is not a weight-loss product".