Kim Cattrall slammed over Sefton Park plan comments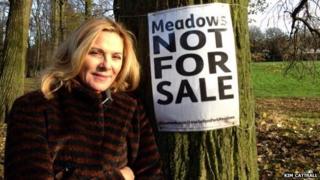 Liverpool Mayor Joe Anderson has hit back at comments from Sex and the City star Kim Cattrall criticising plans to sell Sefton Park Meadows.
The Liverpool-born actor said developing the area next to the park would "encroach on the people's land".
Mr Anderson said her comments were "ill-informed", asking "what does she really know of the issues that Liverpool faces?"
Campaigners are against plans to build on 11 acres of land on Park Avenue.
Cattrall, who was in Merseyside to pick up an International Arts Icon award at the Collective Honours event, told the crowd: "I sincerely hope it's not too late to turn back on that decision."
She recalled playing in Sefton Park during her childhood and said she was aware of how much the park meant to youngsters.
"This is why I have spoken out against the plans to develop on local green spaces here in Liverpool. To do so is to encroach on the people's land."
'Ill-informed'
Mr Anderson said: "It's all very well for a Hollywood superstar to shout from the sidelines, but what does she really know of the issues that Liverpool faces?
"She may have played in Sefton Park when she briefly lived in the city as a girl, but she left.
"I am still here and having to deal with massive and savage Tory government cuts to our budget while devising ways to grow and sustain the city and protect its most vulnerable citizens."
"Her comments are totally out of context and ill-informed... since I became mayor, we have created more green space and there is more of it now than at any time in Liverpool's history.
The Liverpool mayor said the council was selling off 11 acres on Park Avenue, adjacent to Sefton Park but not within the 235-acre (95.1-hectare), Grade I-listed park.
Mr Anderson said 15 villas would be built on the land and "the money we get from that will be invested in our city and our parks."