Jerusalem attack: Prayer service for British-born victim Avraham Goldberg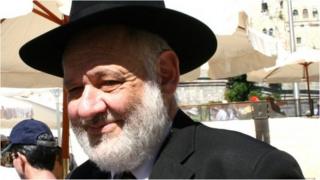 Mourners in Liverpool have said prayers for the British victim of an attack on a synagogue in Jerusalem.
Avraham Shmuel Goldberg, 68, was among four people killed when Palestinian militants attacked worshippers with knives, axes and guns on Tuesday.
Mr Goldberg was born and raised in Liverpool. Former school friends said he was a "kind person, who was good to everyone he met."
Prayers were said at a service held at Childwall Synagogue.
The father-of-six attended Liverpool Institute High School For Boys, before later moving to north London.
He held dual UK-Israeli citizenship and went to live in Israel in 1991, where he worked a chemical engineer. His wife Bryna, from north-west London, is a teacher.
Vic Huglin, who went to school with Mr Goldberg, told BBC Radio Merseyside: "I remember him as a very clever person. He was also very kind person, who was good to everyone he met.
"He had a pleasant manner. My first reaction is one of disbelief - firstly that it was him, and secondly one of complete lack of understanding.
"How anyone could break into a church, into a mosque, into a synagogue or a Hindu temple and perpetrate a crime of such great barbarity?"
Worshippers have since returned to the Jerusalem synagogue at the centre of the attack - the city's deadliest mass killing for years.
Jews attended morning prayers, while the Israeli authorities stepped up security.