Hillsborough Inquests: Claim police blamed victims 'ridiculous'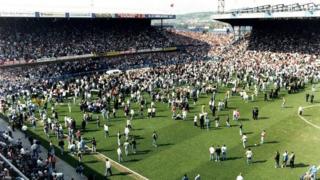 A former police superintendent has told the Hillsborough inquests it is a "ridiculous myth" that officers blamed those who died for the disaster.
Michael Brookfield, who chairs a police support group, said he had never heard any officer make the claim.
He said officers had shown "enormous grief" and "sympathy for the families".
He also spoke about Ch Supt David Duckenfield, who he agreed had been "dropped in the deep end" when he was given the role of match commander.
Ninety-six fans died following a crush at the 1989 FA Cup semi-final between Liverpool and Nottingham Forest at Sheffield Wednesday's Hillsborough ground on 15 April 1989.
'Appallingly dishonest'
Mr Brookfield was a superintendent at the time of the disaster and chairs South Yorkshire Police's Hillsborough Welfare Group, which supports officers involved in the new inquests.
He said there had been many examples in the press and media of attempts to discredit the police.
He said there was a "ridiculous myth, that is appallingly dishonest, that South Yorkshire Police blamed the people for the disaster".
"They were the ones who [had] done everything right and were never to blame," he said.
Asked by a barrister representing some of the families of the victims if officers blamed other Liverpool fans for what happened, he said that was an opinion he had heard "regularly".
Mr Brookfield was also asked by John Beggs QC, representing former Ch Supt David Duckenfield, about the match commander.
He agreed that Mr Duckenfield had been "dropped in the deep end" and had never experienced a capacity crowd at the ground, so had "nothing to compare the central pens against".
Mr Beggs added that it was "very difficult for someone who's never seen it before to know whether it's incredibly crowded, dangerously crowded or on the cusp in-between, as it were".
The inquests in Warrington continue.
---
Who were the 96 victims?
BBC News: Profiles of all those who died