Liverpool University probes student rape play script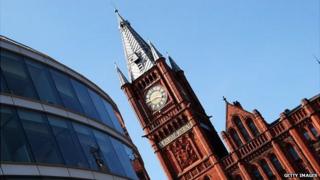 Liverpool University is investigating an "unacceptable" script for a students' play which culminates in a character being drugged and raped.
The script also mocks the anti-rape slogan "no means no" and has characters including Mrs Sluttypenny and James Bondage.
It was put forward by a group of fourth-year medical students for the annual concert, known as Smoker.
The university was alerted after the script caused outrage on social media.
Among the comments, student Harriet Hey posted on Twitter: "What have I just read? Gross below the line comments, rape jokes and general idiocy."
A joint statement condemning the script has been released by the university and student groups.
'Shocking content'
It said: "We expect our students to comply with the university's policy on student conduct and discipline and adhere to appropriate standards of behaviour.
"The university, the Guild of Students and the Liverpool Medical Students' Society are shocked at the content of this material which is clearly unacceptable. The university is investigating."
Smoker runs every year and involves each year group performing a pantomime-style play based on an existing story, with sexual elements added.
Students were sent the scripts last month and were asked to vote for their favourite.
The winning script was a parody of Mulan, which includes a castration scene and a "sexy geisha" dance.
On Monday, the Guild of Students launched its Call it Out campaign aimed at encouraging students to speak up against sexual harassment on campus.
Last month, compulsory sexual consent workshops were introduced at Oxford and Cambridge universities after concerns about attitudes towards rape among students.