Hillsborough Inquests: Officer denies 'plot to falsify accounts'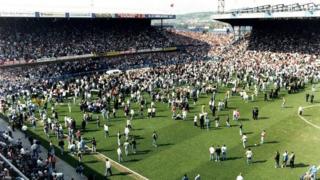 A retired detective who initially led the police investigation into the Hillsborough disaster has denied there was a "plot to falsify accounts".
Graham McKay said he told South Yorkshire Police officers not to make notes about the events in pocket books.
He also told the officers involved to give "reports", rather than official statements to ensure "integrity" and "impartiality" in the process.
Ninety-six fans died as a result of a crush at the 1989 FA Cup semi-final.
A barrister for the Hillsborough families said "if somebody wanted to falsify accounts" this method "makes that much easier".
Mark George QC, representing 22 of the families, said using pocket notebooks would have left an "audit trail" and they were "internally paginated".
But Mr McKay, a former detective superintendent, said: "I think you're being most unfair to suggest that I was corrupt in telling officers to keep an aide memoir to assist them."
The coroner, Lord Justice Goldring, told him that was not being suggested.
---
Who were the 96 victims?
BBC News: Profiles of all those who died
---
The jury saw notes from a briefing Mr McKay gave to detectives on 16 April 1989, the day after the disaster.
During it he said: "I can say to you all, anyone who was involved yesterday, after this briefing take time to sit down and make some notes. Is there anyone in this briefing who has made a pocketbook brief? No-one. Do not start making pocketbook entries.
"Yesterday was the most traumatic experience of my life and large chunks of it I can't remember. I'm sure it might be the same for many of you."
In a later briefing, on 17 April, Mr McKay told detectives that the inquiry "could not be and should not be" undertaken by people who were under suspicion.
It was their job, Mr McKay added, to build the incident room, identify lines of inquiry and evidence, but not to take statements. They would not, he said, "start the engine".
He told his staff that instead of taking down formal statements they would ask the officers involved for "reports".
Mr McKay instructed the officers to be "impartial" and "not seen to be colouring information".
He added that they wanted information "good or bad" and "warts and all".
The meeting notes also recorded Det Ch Supt Terence Addis telling officers they "have got to be completely impartial".
Assistant Chief Constable Walter Jackson had said: "The reasons for that tragic event on Saturday will come out. Do not speculate on the causes."
But Mr George said for all his "concern about the integrity of the inquiry" Mr McKay seems "to have been the person who actually instituted a system of writing accounts which seemed to be guaranteed to undermine integrity".
Mr McKay disagreed and pointed out that someone could falsify an account in a police notebook.
But Mr George said the "audit trail" around the books made that difficult.
He described how one former officer who had been at the disaster, William Crawford, had given evidence about his statement being changed saying his initial report referred to the tunnel leading to the Leppings Lane pens being closed, but that "disappeared" in a formal statement.
"That could be done because it was written on plain paper. If it had been in a pocket notebook it couldn't have been done, could it?" he said.
Mr McKay agreed, but added if he had "it all to do again, I would do exactly the same".
He denied that a police pocket notebook was the "obvious place" to ensure "continuity" and "integrity".
The jury also heard that in his 17 April briefing Mr McKay referred to the Liverpool fans who entered the ground through exit gate C and then went down a tunnel leading to the terraces as "lemmings".
Mr George asked if he thought it was an "appropriate" word.
Mr McKay replied: "I certainly didn't intend any disrespect or insult. But it appeared to me at that time that everyone followed the leader down the tunnel - to destruction."
The barrister enquired whether the witness considered there was "anything inappropriate or insulting" about the use of the term.
He replied: "No I didn't and I'm surprised that you are picking on one word in a briefing that was said off the cuff 25 years ago."
The inquests continue.