At risk libraries 'to stay open', says Liverpool mayor Joe Anderson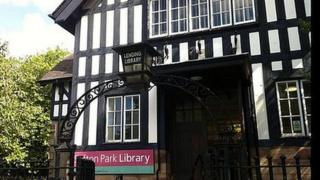 Eleven Liverpool libraries under threat of closure will now stay open, the city's mayor Joe Anderson has said.
Plans to close 11 of the city's 19 public libraries were designed to save £2.5m in three years but were placed on hold ahead of a four-week consultation.
Mr Anderson said all the libraries will now stay open although some may operate under reduced opening times.
Protesters who feared Liverpool could become a "cultural wasteland" said the news was a "victory for people power."
The city's mayor said he believes the council can make savings in other areas, for example by moving one-stop shops into library buildings.
"I'm confident we will be able to do that, so that's why I'm recommending to the cabinet in a couple of weeks' time that we keep every single library open," he said.
The move could mean some job losses, although Mr Anderson said there would not be compulsory redundancies. The libraries at risk were:
Breck Road
Dovecot
Fazakerley
Kensington
Lee Valley
Old Swan
Sefton Park
Spellow
Walton
Wavertree
West Derby
Earlier this year, protesters lobbied the council with a 10,000-signature petition handed in by children's author Alan Gibbons, who said he feared Liverpool could become a "cultural wasteland".
'Not a U-turn'
Green Party councillor Tom Crone, who was instrumental in the fight to save Sefton Park Library, said: "Libraries are very special and this is a victory for people power.
"People have been fighting extremely hard for this, and we're delighted the mayor has apparently had a change of heart. It really does seem like a success for what has been a very, very devoted campaign."
However, the mayor said pressure from the public was not the reason for the new decision, and said it should not be seen as a U-turn.
He said consultations had identified more than £1.6m in savings, and that only £600,000 more now needed to be found.
"People can say what they want about people power, and I'll be disappointed if people try to claim that that's what it is," he said.
"I know how people feel, I live here, I'm a grandparent, I've got kids myself. But the fact of the matter is I've got to balance the budget."