Chinese World War One workers remembered in Liverpool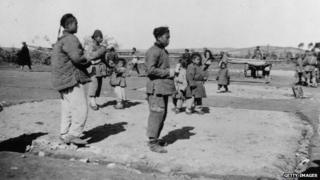 An orchestral tribute to the "forgotten of the forgotten" of World War One has taken place in Liverpool.
The Pagoda Chinese Youth Orchestra played The Last Post on traditional Chinese instruments, in honour of the 20,000 Chinese men who died on the battlefields of France and Belgium.
An estimated 140,000 men of the Chinese Labour Corps worked alongside soldiers.
The ceremony in Liverpool also saw a recital of a song used in China as a recruitment aid.
Zi Lan Liao, who runs the orchestra, said very few people were aware of the number of Chinese people recruited in World War One.
"It is most fitting that the orchestra will be at the centre of this tribute, remembering those brave countrymen who made that long journey to the battlefields of Europe."
Trench duty
During the war, a recruitment drive took place across China to find men willing to travel to Europe.
More than 140,000 Chinese workers were transported to the frontline, carrying out duties such as digging trenches and repairing armed tanks.
They also unloaded munitions and supplies from ships and trains, built roads and laid railway tracks.
They were kept on after the war to recover bodies and bury the fallen soldiers in the numerous war cemeteries.
Five of the Labour Corps are buried in Anfield Cemetery, which members of the orchestra visited to pay their respects on Sunday.
The orchestral performance took place in the city's Chinatown at 14:00 GMT.