World War One posters reveal St. Helens war messages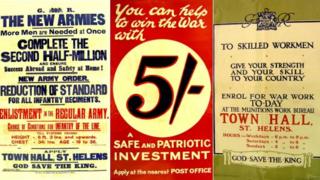 A collection of 165 posters, which lay undiscovered for decades, reveal government messages to the residents of a Merseyside town during World War One.
The posters, produced between 1914 and 1918, were found in the 1970s behind a wall in a St. Helens Council building.
They are on show at the town's World of Glass museum.
On display until 14 November, the posters cover every aspect of life from rationing advice to calls for people to sign up.
Curator Hannah Longworth said they showed how the war "completely changed people's lives".
She said the prints "tell what life was like in the town" and show how day-to-day life was affected by food rationing and war contributions.