Hillsborough officer: 'Overwhelmed' police not to blame for control loss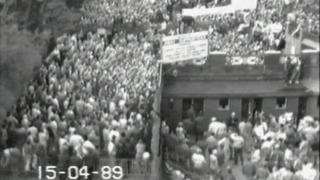 It would be "unfair" to blame an "overwhelmed" police force for losing control of fans outside Hillsborough, a retired officer told the inquests.
Graham McKay said to do so would be like blaming King Canute for failing to control the tides.
He said there was "frustration giving way to anger" amongst the large crowd of Liverpool fans who had gathered outside the Leppings Lane turnstiles.
Ninety-six fans died as a result of a crush at the 1989 FA Cup semi-final.
Mr McKay, giving evidence in Warrington at the new inquests into the disaster, was in charge of crime prevention and detection at the stadium in Sheffield.
Pressure 'intense'
He described to the jury how "the pressure was so intense" outside the turnstiles that wrought iron perimeter gates were closed in an attempt to ease the situation.
Mr McKay said: "I don't know how that crowd could have been controlled when police horses and plenty of officers on foot were unable to contain them.
"The nearer and nearer they got to kick-off the nastier the mood became, the angrier people became."
He added: "I don't believe that people were acting in concert with one another, but they all had the shared objective of getting into the [ground] by hook or by crook."
When asked by Christina Lambert QC, on behalf of the coroner, when police lost control of the crowd, he replied: "I think it's unfair to suggest that control was lost.
"If you're saying that control was lost, it suggests some fault on behalf of the police officers that were there.
"I think control was lost in the same manner that King Canute lost control of the North Sea. He was overwhelmed."
Mr McKay said the "unrelenting pressure forced open those [perimeter] gates and, at the end of the day, brute force prevailed."
The hearing heard that in the days after the disaster, Mr McKay went to look at the gates.
He said one of the bolts that secured them had been bent and another had gouged a groove in the asphalt. He told the inquests the damage "looked fresh".
Asked whether he thought the gates had been deliberately forced open, he said: "The gates had been forced by a huge throng of people pressing from outside the gates.
"Whether that was deliberate action on their part, whether it was just a concerted action to get in to the ground, I don't know."
'No delayed kick-off'
On the day of the April 1989 disaster, Mr McKay took charge at the temporary mortuary set up in Hillsborough's gymnasium.
He said: "I was no stranger to sudden, violent and unnatural death in keeping with any senior officer of that rank, particularly detectives.
"I had seen more than my share but nothing in my service prepared me for the events of that afternoon."
The court heard that shortly after 15:30 he ordered Det Insp John Charles to take over.
He was asked whether, during his time in charge he thought it possible that "there were fans who were brought into the gymnasium who were in fact alive but who were, for whatever reason, not given medical or ambulance care".
Mr McKay replied: "If you had asked me that the day afterwards, I would have said 'no, it was not possible'. But now, 25 years after, I can't honestly stand by that answer. I just don't know."
He said he had "taken for granted that all of the ones that were brought into the temporary mortuary had already been certified as dead".
Mr McKay also recalled a planning meeting held before the semi-final.
He said that Ch Supt Brian Mole referred to "an instance where kick-off had previously been delayed following a similar cup tie and he said under no circumstances would there be any delayed kick-off" on this occasion.
He added: "That was his decision that was based on his experience. I thought nothing of it."
The inquests continue.