Hillsborough Inquests: CCTV tapes went missing after match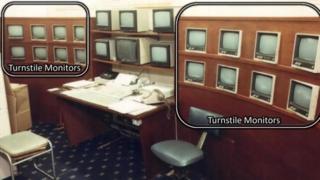 An ex-electrical engineer has told the Hillsborough inquests two CCTV tapes were missing from a locked control room the morning after the disaster.
Roger Houldsworth agreed one was likely to have recorded turnstiles used by Liverpool fans; the other was blank.
He had locked the room because "there could be evidence" on the 16 tapes.
Before the disaster he saw the central Leppings Lane end pens were "absolutely full" when an exit gate was opened, allowing more fans to enter the ground.
Ninety-six fans died as a result of a crush at the FA Cup semi-final between Liverpool and Nottingham Forest on 15 April 1989.
Mr Houldsworth told the hearing that on the day of the disaster he ejected all 16 tapes and locked the cupboard with the video recorders inside.
At about 18:15 he then locked the control room itself in the South Stand of the stadium, the inquests in Warrington heard.
Mr Houldsworth asked a security guard to "make sure no-one goes in there" because "it didn't take a rocket scientist" to know "there could be evidence on the tapes".
The next morning he found the cupboard doors with the tapes inside were "slightly ajar" but the lock was still in its locked position.
There was no sign of forced entry to the control room, Mr Houldsworth told the hearing.
The court heard one of the missing tapes would have been blank because the camera it was connected to was not working as a result of building work at the Leppings Lane end.
---
Who were the 96 victims?
BBC News: Profiles of all those who died
---
Mr Houldsworth said he reported they were missing to the club's secretary Graham Mackrell and a police investigation was started.
Ahead of the match, Mr Houldsworth said he watched CCTV feeds from all the club's cameras and the five controlled by the police.
"We could see where [the fans] were heading and we could see the pens were absolutely full," he said.
"There was only one place they were going to go and that was the tunnel. It was like a magnet... you could see there was going to be trouble."
The pens either side of the central pens were "relatively empty" with "plenty of room in there", Mr Houldsworth told the inquests.
Christina Lambert QC, acting on behalf of the coroner, asked whether he thought that in retrospect someone should have gone to the police control box and told them what they were seeing on their monitors.
Mr Houldsworth said: "In retrospect, possibly yes. As I say, I did go down - the intention was to find a senior police officer to try and warn them what was occurring."
Mr Houldsworth retired a week before the 1989 match but was asked by Sheffield Wednesday's secretary to be on site in case of problems with systems.
The inquests continue.