Anfield explosion: Nail bomb caused 'minor' car blast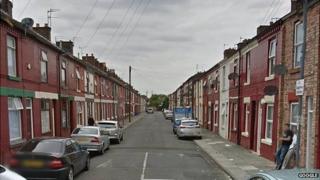 A "crudely fashioned" nail bomb caused an explosion which damaged a car in Liverpool, police have said.
Emergency services found a glass jar containing metal screws resting on the car's spoiler on Rector Road, Anfield, shortly before 04:00 GMT.
Police said nobody was injured in the fire, which only caused minimal damage as the device had not exploded fully.
The owner of the car was inside his house at the time, a Merseyside Police spokesman added.
Army bomb disposal experts examined the object and later declared it safe although part of Rector Road remained cordoned off while specialist police officers carried out a detailed forensic search.
Supt Mark Wiggins said: "A very crudely fashioned device was recovered from on top of the car which fortunately had not exploded fully, so only minimal damage had been caused.
"However, this was an extremely reckless act and we are carrying out extensive enquiries to establish who is responsible and why they might have targeted this particular vehicle."