Warrington Town: FA Cup fever strikes as fans clamour for tickets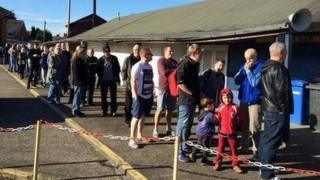 Warrington has never been known for the round-ball game - rugby league has always been king.
But that all changes on Friday when tiny Warrington Town appear in the first round of the FA Cup for the first time in their 65-year history.
The Cheshire club's Cantilever Park stadium, just a drop-kick away from the eponymous bridge over the Manchester Ship Canal, will be packed to the rafters for their eagerly awaited tie against Football League opponents Exeter City.
All of the tickets sold out within hours, but those who missed out will at least be given the consolation of being able to watch live coverage on BBC Two and the BBC Sport website.
Warrington Town are members of the Northern Premier League's First Division North in the eighth tier of the English game - they would need four successive promotions to join Exeter in League Two.
Their players all combine their football with jobs ranging from being a catalogue model to working as a solicitor.
Football v Rugby League in Warrington
Warrington Town FC
Warrington Wolves
Founded in 1949 as Stockton Heath Albion, the club took on its current name in 1961
History
One of the original 22 clubs that formed the Northern Rugby Football Union in 1895, they are the only one to have played top-flight rugby ever since
Cantilever Park has a capacity of 2,500, and for league games adults pay £8, with concessions at £5 and under-12s admitted for free
Stadium
Moved to the 15,000-capacity Halliwell Jones Stadium in 2004 after more than a century at Wilderspool Stadium
Reached the FA Vase final in 1986-87
Honours
Three-time winners of the old Championship; reached the Super League Grand Final in 2013
England's 1966 World Cup winner Roger Hunt appeared for Warrington Town before moving to Liverpool
Did you know?
Warrington Wolves are also nicknamed "The Wire" in reference to the town's wire-pulling industry
They are in the first round of the FA Cup having already beaten five opponents, including three from higher divisions
Cup pedigree
Have won eight Challenge Cups (most recently in 2009, 2010 & 2012)
Yellows chairman Toby Macormac said: "This is the biggest game in the history of Warrington Town Football club and it has captured the public's imagination, creating an unprecedented demand for tickets. They sold out in less than three hours."
One lucky supporter likened the situation to Roald Dahl's Charlie and the Chocolate Factory, in which children desperately try to find golden tickets hidden in chocolate bars.
The club have no full-time staff and rely on the goodwill of volunteers, who juggle club commitments with their day jobs.
And they get by with a little help from their friends.
Wire manager Shaun Reid - brother of former Everton and England midfielder Peter - even managed to call in a favour from Blues chairman Bill Kenwright when he struggled to find a training ground earlier this week.
And the Warrington Wolves rugby league team, based just two miles away, have been offering their support.
"Sport is celebrated in our town," they said, "bringing the community together and we would encourage rugby league and football fans alike to get behind the local team.
"From one sports club to another, good luck from all at Warrington Wolves."
Reid said: "In the club's history it's the biggest game. The FA Cup is massive.
"It's fantastic for the people of Warrington. That pleases me more than anything. This is for the football club and the supporters. Long may it continue.
"The media interest just raises the profile of the football club. Since the draw was made my feet haven't touched the ground.
"Even though it's supposed to be a rugby town, the match sold out in an hour. It's a big town - there's over 200,000 people live here and I'm sure there's a space for football."
He urged his players to savour the occasion.
"They made history for this football club and I said to them they might only get one chance here. That very rarely happens in a lifetime."
He said no big team wants to visit a non-league team, and warned Exeter: "It might even be a bit cold for them in the dressing room, I've not decided when I'm going to put the heating on yet!"
Warrington Town v Exeter City is on BBC Two and the BBC Sport website on Friday at 19:30 GMT.