Mayor of Liverpool calls for Merseyside devolution deal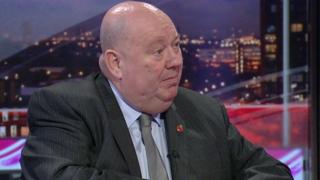 Merseyside must have an elected mayor to "make a real difference" to the people of the region, the Mayor of Liverpool has said.
Joe Anderson said the area needed powers like those due to be given to Greater Manchester.
He said the case for devolution was "a powerful one and should be recognised".
The Greater Liverpool region includes six councils - Wirral, St. Helens and Halton are against the idea, Sefton support it and Knowsley are undecided.
On Monday, Chancellor George Osborne said Greater Manchester was going to get an elected mayor to preside over regional issues.
The mayor will oversee policies such as transport, social care and housing as well as police budgets.
Mr Anderson said he believed it would be "a success for the government if they include the Greater Liverpool region in move devolvement and decentralisation of powers".
"We have to work with government to get those powers and bring them to the local level where we can make a real difference for the people who live here."
He said he would be interested in running for the Merseyside mayoral role.
Mr Osbourne said he was open to the idea of a mayor for Merseyside, but only if all the councils agreed.
"There are other authorities in Merseyside and we would have to have the conversation with Joe and all the authorities.
"But I'm up for Merseyside going down this path, so let's start the conversation."