Hillsborough Inquests: Officer regrets calling fans 'animals'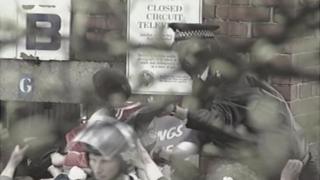 A former inspector who called fans at Hillsborough "animals" has told the inquests he regrets using the "insulting" and "inappropriate" term.
Robert Purdy used the word to describe some Liverpool supporters in his first statement about the 1989 disaster.
The word was removed from later versions of his statement.
Mr Purdy, who was in charge at the Leppings Lane turnstiles, said he had been "upset, stressed and angry" when he wrote the word "animals".
The inquests into the deaths of 96 fans - fatally injured during the FA Cup semi-final in Sheffield between Liverpool and Nottingham Forest on 15 April 1989 - also heard Mr Purdy helped lift an unconscious boy out of a queue at around 14:40 BST that day.
He said that after that time police had "very limited" control of the crowd.
The court was read his first statement, dated 2 May 1989, in which he said fans had been "very mixed".
"I talked with a London woman and her friend. They had chips and shared them with me, I joked about my diet.
"They were nice, but others were just animals. They looked at you, the ground, then off, then back, then off."
'No personal interaction'
The jury was told the reference to the chips was removed from a later version and the sentence referring to "animals" was rewritten.
The new version read: "They were nice, but others were not, and it was apparent by the general attitude of some of the Liverpool supporters that they resented the police presence."
---
Who were the 96 victims?
BBC News: Profiles of all those who died
---
Mr Purdy agreed calling fans "animals" was insulting and using the word did not help South Yorkshire Police understand what had happened.
He said it was "problematic" to explain why he used the term.
"One [reason] is the movement of them - that they were back and forth," he said.
"They were uncooperative, they didn't interact with you, there was no personal interaction."
He said he had written the word "at a time when I was upset. I was angry about it, the situation, and that's the word that came to me".
He agreed it was "inappropriate, insulting language".
'Wholly improper instructions'
Elsewhere in his initial statement, Mr Purdy wrote he had "shouted at officers on the pitch, they seemed to be stood there mesmerised, they did not seem to comprehend the enormity of the situation".
That sentence was also removed from the later version of his statement, as was a reference to Supt Roger Marshall - the officer in charge of fans outside the stadium - being "perplexed".
Mr Purdy said he was "told by officers who brought it down to be signed that it had been amended" and that "the material that was opinion [and] speculation had been taken out to make it a factual statement".
He accepted some of what had been removed was fact rather than opinion.
He was also asked about why many officers' first recollections, including his own, were made on plain paper and neither signed nor dated.
Receiving reports in such a condition, he said, "certainly wouldn't be a way that you would normally request documents to be submitted".
Mr Purdy accepted being asked for statements in that condition involved "wholly improper instructions", but he could not recall who had made that order.
The jury was also shown a letter, dated 5 May 1989, from South Yorkshire Police's solicitors Hammond Suddards. It referred to Mr Purdy's initial statement.
It read that the firm saw his testimony as "a most helpful statement" but wanted him to review it "to reduce the graphic content and render it rather more prosaic and factual".
The inquests in Warrington continue.