Knowsley Council to appoint new chief executive Mike Harden on reduced wage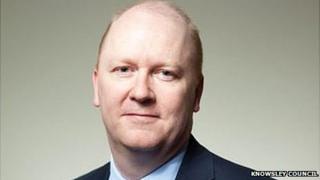 Knowsley Council is poised to appoint a new chief executive - paying them £30,000 less than their predecessor.
Sheena Ramsey stood down from her £192,000-per year post as part of a move to find £26m in savings, which will also see 200 job losses.
A report being considered by councillors next week recommends current deputy Mike Harden be given the top job.
He is set to be paid £160,000 for the role, described as "more hands on".
The management restructure will also result in the loss of "several senior manager posts" to "realise more savings", the authority said.
A statement in documents prepared ahead of next week's full council meeting stated that meeting "the current challenges will require the chief executive to be less of a 'figurehead' and instead to take a more 'hands on' approach".
Mr Harden had "displayed all of the skills, abilities and experience" to fill the new role, the statement said.