Thieves write apology on flooded Lydiate pub's table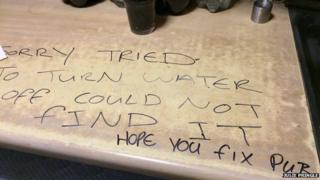 Thieves left an apology at a Merseyside pub after flooding it by damaging a boiler while stealing a safe.
Police said three people caused the damage when they broke into the 15th Century Scotch Piper Inn on Southport Road in Lydiate, Sefton on 24 October.
A message written on a table read: "Sorry tried to turn water off could not find it. Hope you fix pub".
Manager Phil Moran said there was "an element of remorse" to the note, but the flood had created "carnage".
"They took the safe and everything they could get their hands on but left a message saying sorry about the water," he said.
"I think one of them had a connection with the pub and someone will know something.
"It was as if there was an element of remorse that they didn't want to damage the place."
Mr Moran, who has managed the pub with his business partner Julie Pringle since March, said the thieves were caught on CCTV breaking in within minutes of him locking up.
He said the boiler damage had caused extensive water damage and staff had been left "numb" by the theft.
"It was horrible. They even took charity money we'd collected for a local's sponsored cycle.
"This is a beautiful little pub - there's no music in here. It is like a throwback in time."
Merseyside Police said an investigation into the theft was continuing.