Hillsborough Inquests: Inspector denies statements had to 'toe the line'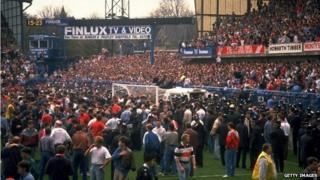 A former police inspector who was on duty during the Hillsborough disaster has denied he was "leant on" to ensure his account "toed the party line".
The jury at the inquests were shown two statements made by Philip Woodward.
Mark George QC, who represents 22 of the victims' families, said the first did not mention alcohol, while the second, dated a week later, said fans were "the worse for drink".
Mr Woodward said it was his "recollection" of events.
The former inspector, who was giving evidence at the new inquests into the deaths of 96 fans who died following a crush at the FA Cup semi-final in Sheffield between Liverpool and Nottingham Forest on 15 April 1989, said he was "not aware of any party line or slanted versions".
Mr Woodward's statements were written in the weeks after the disaster, the first on 29 April and the second on 3 May.
Challenging the statements, Mr George said the first "does not contain a single word about alcohol or fans drinking, being drunk or under the influence of drink".
"Your first account, with no reference to alcohol at all and scant reference to abuse from fans, might have been seen as not really fitting the South Yorkshire Police company line, which was basically blame the fans...you weren't blaming the fans, you weren't toeing the party line."
Mr Woodward said he did not know what the party line was and could not comment on it.
He said the second account was written after receiving a memo from Ch Supt Terry Wain asking him to "expand" on some areas.
The jury was told the day after Mr Woodward wrote his first statement, Ch Supt Wain held a police briefing.
Mr Woodward did not attend but his name was mentioned in a document relating to the meeting and interactions with West Midlands Police, the force originally tasked with investigating the disaster.
It stated: "We are negotiating with West Midlands for copies of a number of statements. In the meantime, the officers should be required to provide the full written account that is sought.
"They should aim to be accurate and consistent with previous statements."
"On this point, either Insp Ensor or Cleverly will be allocated Insp Woodward.
"Ch Insp Bettison has a copy of a previous self-prepared statement of Woodward's, submitted in a debriefing exercise - whichever of you is allocated Woodward, please see Ch Insp Bettison."
---
Who were the 96 victims?
BBC News: Profiles of all those who died
---
Mr Woodward said he did not remember being seen by either inspector.
"I was not leant on. Nobody approached me, told me what to write, told me what to put," he said.
"I had no pressure put on me. I followed the Wain request through the memo for that additional information."
Questioned by Christopher Daw QC, who represents Ch Supt Wain, he denied anybody had suggested the wording he should use.
"I was not aware of any party line or slanted versions, when I wrote that recollection, that report. It's my report, my recollection."
Mr Woodward said everything he had written was true, he had never lied and he would not lie, even if someone asked him to.
The inquests, being held in Warrington, continue.