St Helens: Retired teacher Howard Thornthwaite dies after railway bridge car crash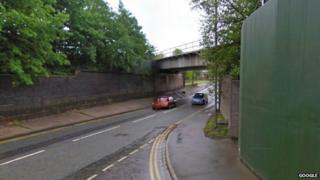 A man who died after the car he was driving crashed into a railway bridge has been named as retired teacher Howard Thornthwaite.
The incident happened near St Helens Rugby Club's Langtree Park stadium shortly before 04:30 BST.
Police said Mr Thornthwaite, 63, was the sole occupant of the Fiesta and was pronounced dead at the scene.
Peasley Cross Lane was temporarily closed between Sherdley Road and the A58 Linkway East.
In a statement, Mr Thornthwaite's family said he had taught technology for many years in St Helens schools before taking up the post of technician at St Cuthbert's High School.
The married supporter of Liverpool St Helens rugby club, of Sutton, retired earlier this year.