Lady Lever Gallery given £1.2m Heritage Lottery Fund boost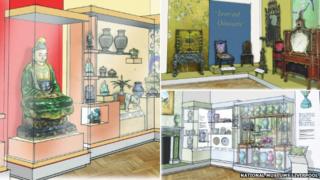 A project to transform a Merseyside gallery has received a boost from the Heritage Lottery Fund (HLF).
The scheme to restore Wirral's Lady Lever Art Gallery to its "former Edwardian glory" has been granted £1.2m by the HLF towards its £2.8m cost.
It will see new display rooms opened to show off more than 1,500 items.
National Museums Liverpool's Sandra Penketh said the HLF grant "endorses the local, national and international significance of the collections".
She said it also meant her team could "approach the project creatively".
"We are working with our architectural and design team to give the objects the sort of environment they deserve, one which draws out their beauty and cultural value to a modern audience," she said.
The overhaul of more than a quarter of the gallery will allow a "stunning redisplay" of items such as a death mask of French emperor Napoleon Bonaparte, a "world-renowned" collection of Wedgwood jasperware and some "exquisite" 17th and 18th Century Chinese porcelain, a spokeswoman said.
She said it would also see the south dome restored to "create a dramatic backdrop for Victorian and early 20th century sculpture".
Objects are being moved from the gallery to allow for the building work, which was due to be completed in early 2016.
The remaining £1.6m of funding will come from grants, donations and corporate sponsorship, the spokeswoman said.
The HLF's Sara Hilton said the project had gained support because as well as "restoring original architectural designs and celebrating Lord Lever's local story, it will transform the building and the presentation of its world-class collections for future visitors".
The Port Sunlight gallery was opened in 1922 by William Hesketh Lever to house his personal art collection for his workers to enjoy.
Its foundation stone was laid in 1914 by King George V.