Formula 1 surgeon Prof Sid Watkins honoured by Liverpool hospital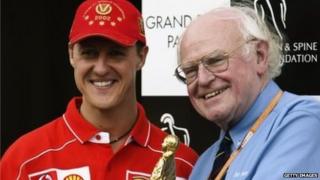 A neurosurgeon credited with saving the lives of Formula 1 drivers Rubens Barrichello and Mika Hakkinen is to be honoured at a Liverpool hospital.
A new building housing a specialist brain injuries unit at The Walton Centre is to be named after Prof Sid Watkins, who died in 2012 aged 84.
Liverpool-born Prof Watkins was a leading figure in Formula 1 safety for more than 30 years.
The three-storey Sid Watkins building will open in January.
Formula 1 legend Sir Jackie Stewart OBE said: "Professor Sid Watkins was one of the greatest men of medicine that I have ever encountered.
"His contribution to saving the lives of many people in motorsport will never be forgotten", he added.
Prof Watkins was regarded as innovator in brain and spine stimulation, the surgery of pain and Parkinson's disease.
His F1 career began as a race doctor in 1978 and he eventually rose to become President of the Institute of Motor Sport Safety of the FIA, the sport's governing body.
He performed life-saving surgery on Mikka Hakkinen while on the track at Adelaide in 1995. Barrichello credited Prof Watkins with saving his life in Imola '94.
The new Walton Centre NHS Foundation Trust building will include a complex rehabilitation unit, pain management programme, medical training facilities as well as a brain injuries unit run by mental health trust Mersey Care.
His widow Mrs Susan Watkins said: "My husband would have been proud to know that his name has been attached to this rehabilitation facility, both its calibre and scope reflect his own attitudes to patient care, and his concern for the ongoing needs of those who suffer from neurological diseases."