Wirral air crash memorial takes place in Prenton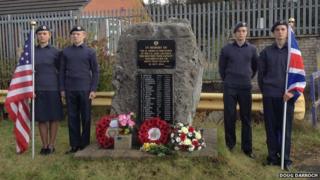 A memorial service has taken place to mark the 70th anniversary of an aeroplane crash in the Wirral that left 24 US servicemen dead.
A US B-24 Liberator bomber crashed in a field in Landican, Birkenhead, killing everyone on board, on 18 October 1944.
There was a smell of petrol on board before aircraft exploded in mid-air, as it flew from Northern Ireland to Tibenham in Norfolk.
The service was held at a memorial for the disaster in Brookway, Prenton.
Eyewitnesses and members of the RAF Volunteer Reserves were at the service, where letters were read out from relatives of those who died.
Councillor Gerry Williams, Wirral Council's heritage expert, said: "There were problems with the plane before the flight and they reckon they smelt petrol fumes on board.
"The aircraft exploded in mid-air coming across the Wirral and the wreckage basically landed around Prenton and Landican."
"Hundreds of people witnessed it. The memory never fades."
Local historian Doug Darroch added: "It was nice to remember the 24 lives that were lost in a frightening way."