Liverpool housing: Sites including Everton named for 2,500 homes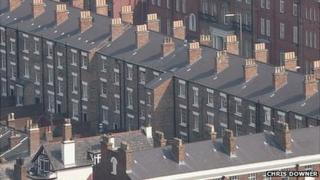 The first five sites for a £205m plan to create 2,500 homes in Liverpool have been revealed by the city council.
Up to 200 homes in Woolton, West Derby, Norris Green, Everton and St Michael's will be built or refurbished after a consultation and planning approval.
In June, a consortium was appointed by Liverpool City Council to build 1,500 new homes and bring 1,000 properties back into use over the next five years.
The council said the project aims "breathe new life into communities".
It is part of a pledge made by Mayor of Liverpool Joe Anderson, who promised 5,000 new homes and to bring 1,000 properties back into use in the city.
Assistant Mayor Ann O'Byrne said: "This is just the start of a five year programme which will deliver new and refurbished properties across the city, offering a greater range and quality of homes for our residents.
"We are working together to drive forward some really important schemes which will breathe new life into communities and wherever possible we are using brownfield sites which have existing developments on them."
The consortium comprises of housing developer Redrow Homes, housing provider Liverpool Mutual Homes and building contractor Willmott Dixon.