Dementia: Memory apps and lighting 'as important as drugs'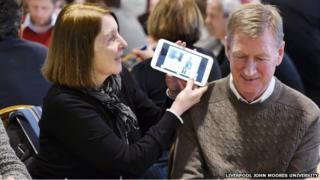 People with dementia in Liverpool have been helping develop new technologies for the condition.
They have helped create and test memory-aiding apps as well as trying out artificial lighting to mimic changes in natural light, something one patient said could be "as big a part in treatment as medication".
The Innovate Dementia project is a collaboration between dementia patients, the private sector, Liverpool John Moores University and Mersey Care NHS Trust.
It uses a 'living lab' approach, which allows people with dementia to discuss the issues facing them with academics and businesses, who then build technologies tailored to their needs.
People can then test the technology at home, in hospital or in their care home and give feedback.
Of the 90,000 people living with dementia in the North West, there are nearly 5,000 in Liverpool, according to the Alzheimer's Society.
Tommy Dunne, 61, from Childwall, has been living with early-onset dementia for four years.
He said the benefits of technology were "absolutely unbelievable - people don't realise the benefits they can have.
"You often only see people in the later stages [of dementia] but in the years leading up to that, if you can get people used to using these technologies, it can help keep isolation away.
"Technology can be a lifeline... it can be a great companion and keep people in touch."
Mr Dunne uses memory-enabling apps on his iPad which he says are easy to learn.
"I would love all those people who say people with dementia can't learn anything new to see us using the app... to see the joy on their faces because they realise they can learn."
Alternative to drugs
Intelligent lighting mimics the rhythm of natural light throughout the day, and is being tested to see if it can help people with dementia to regulate their energy levels.
Mr Dunne, who now has modified lighting in his house, said: "Lighting could play as big a part in the treatment of dementia as medication, I cannot stress how important lighting is… It can influence your whole mood."
But many of those who could benefit may not have access to the necessary devices or be able to afford them.
Because of this, the project team is now talking to the Liverpool Clinical Commissioning Group about ways to ensure that the technologies are as widely available as possible.
Jill Pendleton from Mersey Care NHS Trust explained that ongoing discussion and testing with people who are affected by dementia was central to the scheme as it ensures that their voices and concerns are heard.
Rebecca Rylance, a specialist in Mental Health Nursing at Liverpool John Moores University, said these technologies enable people to live well with the condition once diagnosed and provide an important alternative to prescribing drugs.
The project is part of a wider European £4.3m venture involving the Netherlands, Belgium, Germany.
Every day this week, BBC North West Tonight, Radio Merseyside, Radio Lancashire and Radio Manchester are featuring all of the issues related to dementia in a series of special reports.