Baby injured by vulture at Knowsley Safari Park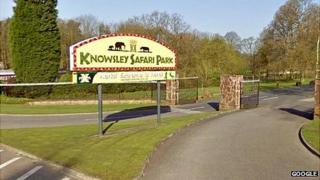 A baby needed first aid treatment after a vulture landed in its pram during a birds of prey display at a safari park.
The infant suffered "surface scratches" to his head during the incident at Knowsley Safari Park in Merseyside.
Managers at the tourist attraction said the accident was the first of its kind in 19 years of bird displays.
The park said babies would now be required to sit on parents' knees and prams would no longer be allowed in the display area.
The display is run by an external business called Gauntlet Birds of Prey, and involves a demonstration of free-flying, carnivorous birds, including eagles.
'Family distressed'
A statement from Gauntlet said: "The vulture was participating in the standard display. He hopped onto the soft hood of the pram, and it collapsed, causing the bird to hop forward onto the baby before immediately hopping off.
"Our experienced bird handlers who were in attendance on the day have advised that the vulture did not attack the baby or try to carry it away. However, understandably the family would naturally have been distressed by what they have seen."
A spokesman for Knowsley Safari Park said the baby was treated by the park's first aid representatives, and his parents were offered advice.
The incident happened on 26 September but was only made public on Friday.
The American Black Vulture is the smallest vulture in the world, weighing just 3lb.