Merseyside police stations in line for £130m overhaul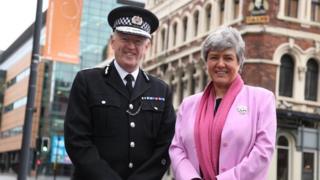 A £130m plan to overhaul police stations across Merseyside could see some bases moving into community centres and libraries.
The project will see aging stations close, others replaced or refurbished and some move into community buildings.
Police and Crime Commissioner Jane Kennedy said the 10-year scheme would save £2.5m each year on running costs.
She said government cutbacks have forced Merseyside Police to look at new ways to run stations and save money.
Ms Kennedy said: "By 2018, we predict government cutbacks will have forced Merseyside Police to lose 29% of its people - officers, PCSOs and staff.
"Already 60% of our buildings are empty or under used and this is only going to increase.
Police jobs protected
"We simply cannot lose so many people without also looking at the buildings and facilities that they use. The current police estate is unsustainable."
The plans, which will consider the future of 78 police buildings, would protect 65 police officer posts each year, Ms Kennedy said.
A similar plan has already been developed in St Helens, where police officers share a building with the library and the housing association on the Moss Bank estate.
The intention is to roll this model out across the region.
Chief Constable Sir Jonathan Murphy said: "It's fair to say that we have an estate of police stations and office buildings which are not fit for purpose, due to their age and condition, some even date back to Victorian times.
Analysis
Claire Hamilton, Political Reporter, BBC Radio Merseyside
When was the last time you went into a police station? It's clear our communities don't have the same need for Victorian buildings any more, and many aren't fit for 21st century policing.
I understand the old police authority may have been looking at similar plans up to a decade ago, but no action was taken, possibly because councillors didn't want to wield the axe over their own local station.
The community station I visited in St Helens seemed to work well for the people on the estate it serves.
'State of disrepair'
"Some of our existing buildings are in a state of disrepair and badly in need of modernisation. The longer we leave it - the bigger the problem will become and costs will increase."
Councillor Simon Shaw, who sits on the Merseyside Police and Crime Panel, criticised the plans for a "lack of clarity".
The Liberal Democrat said: "They talk about things like 'neighbourhood patrol hubs', but what exactly does that mean in real life? Will these community stations be open all the time, or only for five hours per week? We don't know precisely what is being proposed.
"If it's a different way of using police buildings then I have no problem with that. If cuts are not made in this area then do they cut them in schools, or elsewhere in the public sector?
"But I think there is a lack of clarity for something really important here."