MRI scanner at Southport and Formby Hospital hoisted by crane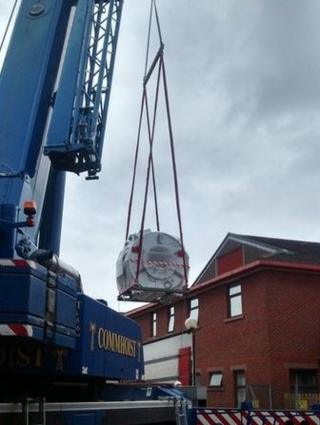 A new seven-tonne MRI scanner has been installed at a hospital in Merseyside.
The radiography unit at Southport and Formby District General Hospital has been extended to accommodate the £500,000 machine, which was hoisted in place by a 50ft crane.
It is part of a £1.2m revamp of the unit due to be completed next year.
Southport and Ormskirk Hospital NHS Trust said the new scanner was needed to meet "increasing demand".
The hospital already has an MRI scanner, which was installed in 2005.
The trust said having a second one would reduce patient waiting times.
MRI (magnetic resonance imaging) uses strong magnetic fields and radio waves to produce detailed images of the inside of the body.