Brian Epstein: Statue to honour 'forgotten' Beatles manager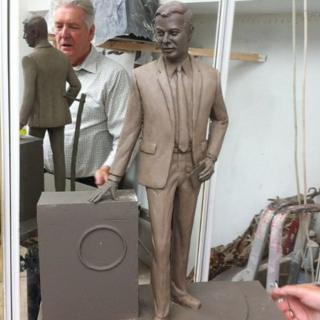 He may have given the world the Fab Four but Brian Epstein is hardly a household name in Liverpool.
There is the Epstein Theatre but campaigners argue more is needed to celebrate the man who took The Beatles from local heroes to global superstars changing pop music forever.
"There is nothing really in Liverpool, apart from the theatre which is just a name really, to mark Brian Epstein not even a blue plaque," said Bob Pitt, founder of Statue4Eppy.
Hence the idea of a statue in the city alongside The Beatles own John Lennon, comedy legend Ken Dodd and "Battling" Bessie Braddock, who served as a Labour MP for the city from 1945 to 1969.
Billy Kinsley, lead singer of 60s band The Merseybeats, explained why he is backing the project.
"Without Brian there would have been no Beatles and without The Beatles we would just be known as a seaport," he said.
'Forgotten man'
"He is a forgotten man over here, you mention his name in the States and everyone knows who he was," he added.
The band were briefly managed by Epstein but parted company because he would not kit them out in suits like The Beatles.
"It was the biggest mistake we ever made," said Kinsley, who also tasted pop success in the 1970s with Liverpool Express.
In keeping with the city's musical heritage the Statue4Eppy campaign has hit on a musical solution to raise funds for the venture.
Pitt, a veteran entertainer, has enlisted stars of the Merseybeat era and others to donate their time in a fund-raising effort which resembles Band Aid.
The last touches are being made to a charity single aimed at raising £70,000 for the statue to be erected in the city centre.
Merseybeat legends, sports and showbiz stars are recording the final takes and a video on Sunday.
---
Brian Epstein
Brian Epstein was managing the record section of his family's department store in Liverpool when he first saw The Beatles at The Cavern Club
After signing the band in January 1962 he changed their image from leather jackets and jeans to suit and ties
Despite several knockbacks he eventually persuaded EMI to sign the future Fab Four
Other acts Epstein managed included Cilla Black, Gerry and The Pacemakers and Billy J Kramer and the Dakotas
He died in 1967 aged 32 caused by an accidental overdose from a sedative
---
Singer/song writer Pitt has teamed up with Kinsley, who is now a record producer. He has brought his lyrics to life with an eclectic band of musicians and singers.
Blue plaque
Vocalists on the song, "Our Thanks", include Owen "You're my favourite waste of time" Paul, Andy McCluskey of Orchestral Manoeuvres in the Dark and children from All Saints Primary School, Anfield, Liverpool, forming part of the choir.
Those lined up for the Live Aid Style recording session and video, include former Liverpool manager Roy Evans, MPs Steve Rotheram and Andy Burnham, actors Tricia Penrose (Heartbeat), Crissy Rock (Benidorm) and Paul Barber (Only Fools and Horses).
Liverpool stars from the 60s who are lining up number, Beryl Marsden, the female vocalist signed by Epstein before Cilla Black and Geoff Nugent, lead singer of The Undertakers.
A cast for the statue has already been made by Liverpool sculptor Tom Murphy whose other works include John Lennon at the city's airport, comedian Ken Dodd, former Liverpool FC manager Bill Shankly and the Moores brothers, who founded the football pools empire.
The Statue4Eppy campaign hope it can be sited in Whitechapel near former site of NEMS, the department store owned by Epstein's family.
Pitt said he would love a blue plaque to form part of the statue.