Hillsborough disaster: 'Delay' in reaching injured fans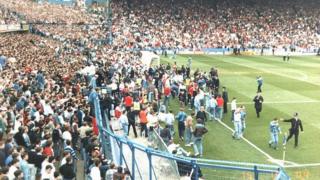 It may have taken up to half an hour to "drag" casualties from one of the terrace pens during the Hillsborough disaster, the inquests have heard.
Lilyan Sosnowski, a PC on the day, agreed that the design of the pen and the number of people in them made it difficult to reach the injured.
She also agreed there was a delay in getting the gate to the pen opened.
Ninety-six Liverpool fans were fatally injured during a FA Cup semi-final at the Sheffield ground in 1989.
Mrs Sosnowski told the court she thought the delay in opening the pen's gate was due to officers waiting for a key to be brought, but said she was "not aware how the gate opened".
The jury has previously been told the pitch-side gates were opened with a latch.
Asked about the design of the pens, she agreed it was "extremely difficult" to get people out of the pen using the gate, which had "problems" with its design and structure.
The jury was told the gates were 77cm (30ins) wide, 33cm (13ins) below the minimum guideline level at the time.
---
Who were the 96 victims?
BBC News: Profiles of all those who died
---
She also agreed that "many minutes" were lost due to people being jammed against the gates and that it "might have taken perhaps 30 minutes to drag people through the gate".
However, she agreed that if the gate had been at the regulation width, it "wouldn't have made a huge amount of difference".
The inquests also heard from Alison Schofield, who had served as a PC on the day in front of the Leppings Lane turnstiles used by Liverpool fans.
She told how the crowd numbers increased "quite quickly" at around 14:20 and she had been pinned against a wall as the pressure of people mounted.
She said it had been "frightening" and she had found it "very difficult to breathe".
She added that after 10 minutes, she had managed to escape by climbing over a turnstile building with a colleague.
The inquests in Warrington continue.