Merseyside Police arrests 14 in gun crime crackdown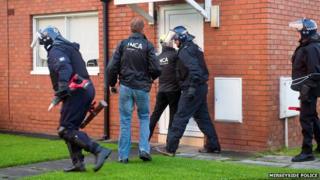 Two firearms and five kilos of class A drugs were recovered in a series of morning raids aimed at eliminating gun and drug crime in Liverpool.
Police arrested 14 people in the operation which involved about 50 officers and began at 07:00 BST.
Nine homes in Crawford Close, West Derby and nearby areas were targeted.
Insp Susan Stribling, of Merseyside Police, said: "There have been a couple of firearms incidents here and we are determined to send out a message."
Officers also searched a disused railway track known as the Loop Line, which is used by walkers and cyclists.
The ten men and four women were arrested on suspicion of a variety of offences, including possession of a firearm and possession of drugs.
All remain in custody except a 21-year-old man, who was released with no further action taken.
Insp Stribling said: "Today is about disrupting criminal activity and showing the many decent people, who live in areas where gun and gang crime has been an issue, that we are there for them."