Hillsborough disaster: Fans 'helped others' in fatal crush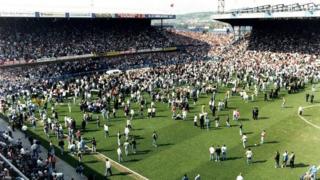 Liverpool supporters who survived the Hillsborough disaster have described how they were helped by other fans caught in the crush on the terraces.
David Cruice and Gary Gains said people battled to free those pinned against barriers as the disaster unfolded.
Earlier, the supporters told the inquests in Warrington that policing had been "better organised" at the same fixture the previous year.
Ninety-six fans died after overcrowding at the stadium in Sheffield, in 1989.
After entering pen three in Leppings Lane, Mr Gains said he found himself pushed up against a crush barrier with another person in front of him.
He told the hearing how the pressure from other supporters mounted and the barrier collapsed.
"Eventually, two Liverpool supporters took either arm and kept pulling and pulling and pulling me, but I think I was saying 'My leg is trapped in the barrier'. Eventually they managed to pull me free," he said.
Mr Gains, who suffered a sprained ankle, was then carried on to the pitch.
'Very chaotic'
David Cruice, giving evidence to the hearing via videolink from the US, said he had attended the 1988 FA Cup semi-final at Hillsborough which, as in 1989, was between Liverpool and Nottingham Forest.
While he described the policing operation that year as "very, very good", in 1989, he said his ticket was not checked amid "chaotic" scenes at the turnstiles.
"It was an unorganised mass of people. I would not use the term 'queues'. It was just a large wedge of people moving towards the turnstiles," he said.
"I believe there were four mounted officers. The only two on foot I saw were right next to the turnstile I passed through."
After entering the central pens via the central tunnel at 14:50, Mr Cruice and his friend moved to a crush barrier and felt the crowd tighten around them, the jury heard.
His friend and fellow survivor, referred to only as Andrew, was now pressed up against the barrier, he said.
"He was bent over far forward over the barrier. His face was very, very red. His eyes were wide open, significant distress and panic on his face," he explained.
"He said something like 'Help me, get me off this barrier'.
"It became clear that at that point, I will be honest with you, if I did not get him off the barrier, I did think he was going to die."
Mr Cruice added: "When I shouted for help it seemed that all these hands came over from behind him and starting pulling him back off the barrier as best as they could, even given the distress that people were in themselves.
"They were still doing everything they could to help others."
'Very crowded'
A third witness, Ian Devine, told the hearing how he escaped the crush by climbing over the fence into an adjoining, less crowded section.
"We knew we had to move... it was worse at the back so we tried to move over to the right and get under a couple of barriers and then that's where we ended up, to try to get away from the tunnel because more people were just coming in," he said.
Mr Devine also described seeing fans being hauled up into the stand above.
He disagreed with John Beggs QC, representing three retired senior officers, that he had the option of walking back down the tunnel once he saw pen three was over-full.
Mr Devine said he stood by a 1989 statement he made to West Midlands Police in which he described a lack of police and stewards both inside and outside the ground.
His statement also alleged a lack of emergency planning and insufficient medical personnel and equipment.
The inquests continue.