Claim that Hillsborough deaths 'caused by late fans'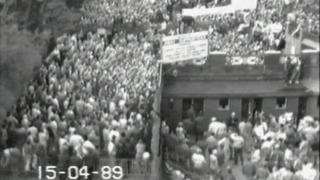 Ticketless fans who arrived "too late" caused the crush at Hillsborough which led to 96 supporters dying, a turnstile operator has told the inquests.
Stephen Copeland said it was his view that Liverpool fans "that came last, without tickets, crushed them".
His comments were echoed by a former PC, who said he believed ticketless fans created an "orchestrated and deliberate" crush outside the ground.
Graham Duffy said he thought they hoped a gate would be opened to let them in.
Ninety-six fans died following a crush at the FA Cup semi-final between Liverpool and Nottingham Forest on 15 April 1989.
Mr Copeland, who was 19 at the time, said the crowd had been "steady and in good spirits" before 14:15 BST, but had become inundated from that point forward.
He said he "tended to fear for my life" until Gate C was opened at 14:52, believing "the turnstiles were coming down".
The jury has previously heard that opening the gate allowed up to 2,000 fans to enter the ground in five minutes.
Mr Copeland said: "I had seen people coming through the turnstiles that didn't have a ticket or certainly didn't produce a ticket [and] who were out of breath.
"They were crushed, they were scared, they were fearful, they were angry, they were annoyed and it got to the point where I was letting them in, regardless of whether they had a ticket or not, as fast as I possibly could.
"I just kept my foot on the pedal and I got them through."
He said he could "feel the crush... the turnstile rocking, I could feel the dust from the turnstile shaking".
Agreeing with an assertion that there were not enough entrances provided for the fans, Mr Copeland said he had "always believed" the disaster was caused by those who "came too late and without tickets".
"Everybody that I had talked with and I had a laugh with prior to two o'clock had come early enough and was stood at the front of the West Stand and my own personal view is that people that came last, without tickets, crushed them."
'Literally penned in'
Earlier, the inquests heard from Insp Brian Huckstepp, who was a PC at Hillsborough and was stationed at the Leppings Lane turnstiles.
He said police had "lost control" outside the ground by 14:30 and that the crush that developed at the turnstiles left him feeling "helpless" and "ineffective".
He said the decision to open exit gate C was "very necessary".
Mr Huckstepp said: "I positioned myself so people had to walk around me and I was telling them to slow down, don't run, there's plenty of room.
---
Who were the 96 victims?
BBC News: Profiles of all those who died
---
"Just anything to try to stop people going in too fast.
"I'm not the tallest or the largest chap and I ended up in that corner with my hands up on my chest and literally penned in and all the supporters around me were really apologetic and embarrassed."
Asked about whether he was concerned about where the fans would go once inside, he said he "never gave it a moment's consideration".
"I was just so relieved that the situation outside seemed to be being handled and resolved."
He also spoke about his written account of the day, which he produced the following week and which was typed up on 7 May 1989.
He said his statement included "opinion" about communication problems and police decisions, which was removed for later versions.
However, he said his original version was shown to Lord Justice Taylor's inquiry into the disaster in 1989 "more by accident than design".
He said he had been "surprised" to be asked questions about the removed paragraph, agreeing with barrister Brenda Campbell's assertion that he was of the understanding that it "was not to be aired in public".
The inquests continue.