Gas blast cash machine gang jailed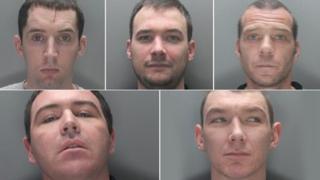 Five men who used explosive gas to blow up cash machines at banks, post offices and supermarkets, stealing an estimated £800,000, have been jailed.
Thomas Whittingham, Anthony Bushell, Craig Cartwright, Kurt Beddoes and Ian Ellis took the money in some 30 attacks across the North West and the Midlands.
The men, from Liverpool, Merseyside and Coventry, caused more than £700,000 in damage during the raids.
They received sentences ranging from 13 to 18 years at Liverpool Crown Court.
Police said they were driven by "greed and a need to fund lavish lifestyles".
All were sentenced for the crimes of conspiracy to cause explosions and conspiracy to commit burglary.
Thomas Whittingham, 28, of Broughton Hall Road, West Derby, Liverpool, was found guilty of both offences and sentenced to 18 years.
Anthony Bushell. 29, of Childers Street, Old Swan, Liverpool, was found guilty and jailed for 17 years.
Craig Cartwright, 39, of Vinecote Road, Coventry, and Kurt Beddoes, 31, of Hanford Avenue, Orrell Park, Liverpool, admitted the offences and were each sentenced to 17 years.
Ian Ellis, 30, of Warrington Road, Rainhill, Merseyside, pleaded guilty and was jailed for 13 years
The raids took place in 2013, in locations including the Wirral, Lancashire, Cheshire, Southport, Liverpool, Prescot, Loughborough, Gloucester, Birmingham, Northampton and Derby.
The men used equipment including angle grinders and gas-cutting torches, before driving away at speeds of up to 191mph in stolen cars with cloned number plates.
Prosecutors said the tactics had previously been used only in mainland Europe.
The men were traced through a tracking device fitted to the cash box from a machine in Warrington.
Det Ch Insp Gayle Rooney, of Merseyside Police, said: "These five men thought they were untouchable.
"The techniques used by the men involved in these attacks were extremely dangerous and we are fortunate that no-one was hurt."