Hillsborough inquests: Top officer's report 'suppressed'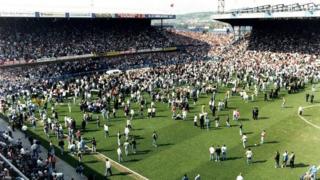 A report by a senior South Yorkshire police officer involved in the planning of the 1989 FA Cup semi-final was "suppressed", the inquests have heard.
Former Ch Insp Frank Brayford was giving evidence at the new inquests into the deaths of 96 Liverpool fans.
The jury heard he was told to "stop putting in reports about Hillsborough" after raising concerns over policing.
He said his superior's deputy Ch Supt Ian Mountain told him: "You were not there. It is nowt to do with you."
'Gobsmacked and devastated'
Mr Brayford told the hearing he worked on the operational order ahead of the semi-final tie between Liverpool and Nottingham Forest on 15 April 1989.
The jury heard he was not there on the day of the disaster because he had been transferred two weeks earlier to another police division, like his then boss Ch Supt Brian Mole who David Duckenfield replaced.
Mr Brayford told the jury he detailed his concerns internally days after the disaster but said he never received a reply.
He said he had not been "satisfied" with changes that were made to the order.
He said he was soon visited by an officer from West Midlands Police, which was investigating the role of South Yorkshire Police in the disaster, and was told: "Stop putting in reports about Hillsborough. You will never give evidence to Lord Justice Taylor."
Mr Brayford, who is now retired, told the inquest in Warrington that he sent a report addressed to a police inquiry team and sent a copy to a superior in his division.
The court heard he was called into the office of his superior's deputy Mr Mountain later the same day.
Mr Brayford said he was told: "Stop putting reports in about Hillsborough. You are not a witness. You were not there.
"It is nowt to do with you."
The next day he said an officer from West Midlands Police went into his office and gave him a similar warning that left him "gobsmacked" and "devastated".
'Not in your interest'
He also recalled conversations with Ch Supt Brian Mole, who has since died, in the days that followed the tragedy.
Mr Brayford said: "Brian said 'I am not going to discuss this. Shut up. Stop talking about it. It is not in your interest to get involved in this', that is the gospel truth.
"He went on to say 'I am not doing this to protect Duckenfield and co, I am trying to protect the good name of South Yorkshire Police and if it means being loyal to the chief constable (Peter Wright) then so be it'."
He said he never spoke to Mr Mole again, whom he had considered a family friend.
When asked by Fiona Barton QC, who represents South Yorkshire Police, if he had shown his report to the then Police Complaints Authority or the Home Office, Mr Brayford said he had not.
'A set-up'
Ms Barton asked him why he did not pass on his report to the Taylor inquiry or attend the public hearing and he replied: "I would not be allowed in there and you know it, too."
Ms Barton then said: "This account about the concealment of your reports is a complete fabrication and these reports were never written, were they?"
Mr Brayford answered: "I am not lying today and I [was] not lying when I wrote that statement."
The hearing was told personnel records showed Mr Brayford was transferred from Sheffield to Doncaster on the recommendation of Mr Duckenfield in early April 1989 after "inappropriate behaviour with a colleague", which involved a sexual relationship with a civilian worker while on duty.
Mr Brayford replied that was not the reason he was given for his move and it was a "set-up".
The inquests continue.