Partner pays tribute to motorist Andrew Salter after M53 crash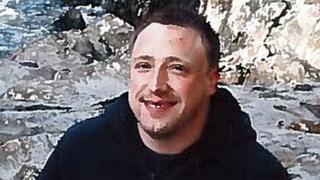 The partner of a motorist who was killed when his car hit a motorway embankment has paid tribute to him.
Father-of-two Andrew Salter, from Wirral, died when his Jaguar left the southbound M53 near Upton on Sunday.
A child in the car was taken to hospital but was uninjured.
Mr Salter's partner, Claire Upton, said: "He was a big man with an even bigger heart of gold. He would always make time for me, the children and his friends."
The 38-year-old owned of a Jaguar dealership in Prenton.
Miss Upton said: "When he was young he had a true passion for cycling and regularly entered competitions.
"He was a keen rugby player and enjoyed keeping fit. As he got older his passion changed from pedal power to horse power especially motorbikes and, of course, Jaguars.
"I would like say to Andrew 'I miss you gorgeous and I love you.'"